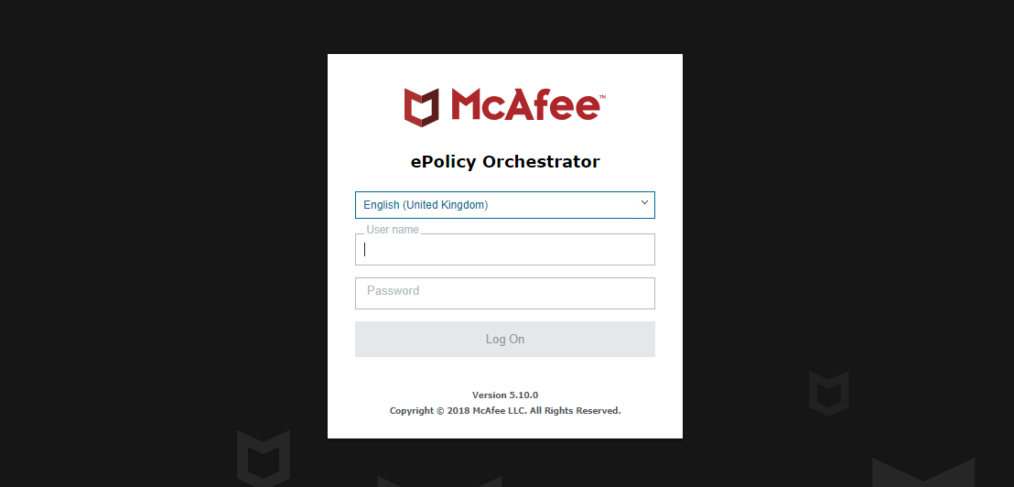 Upgrade McAfee ePolicy from 5.9 to 5.10
In this first technical article, we'll speak about McAfee ePolicy last major version upgrade.
Update is fairly straightforard, but there is a few details you should take care about.
More information about ePolicy Server 5.10 here.
First advice : before running the installer, you can run the Pre-Installation auditor (it will run during install anyway). This can be downloaded separatelly and it is very light. This will avoid you to download a big file without being able to move forward and save you some time. Also, at the time of this install, there was already a repost, so make sure you have the latest package available.
Step 1 : start the Auditor :
The Auditor will check 2 things : you system/database and your installed products to check any incompatibility.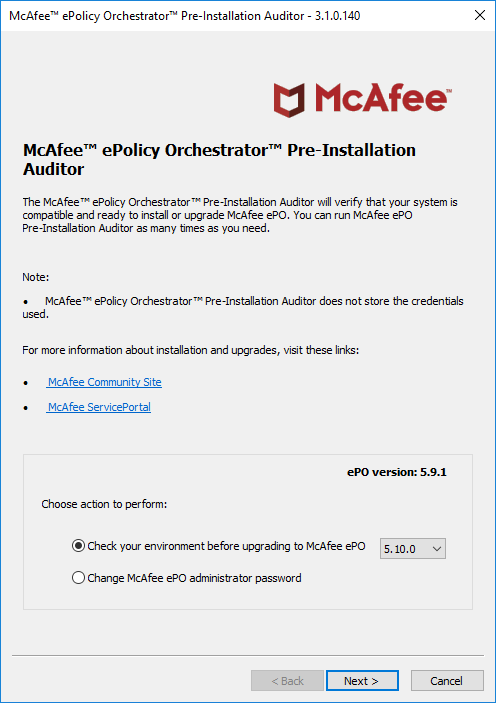 Select the first choice to launch the tests.
Step 2 : validate your credentials :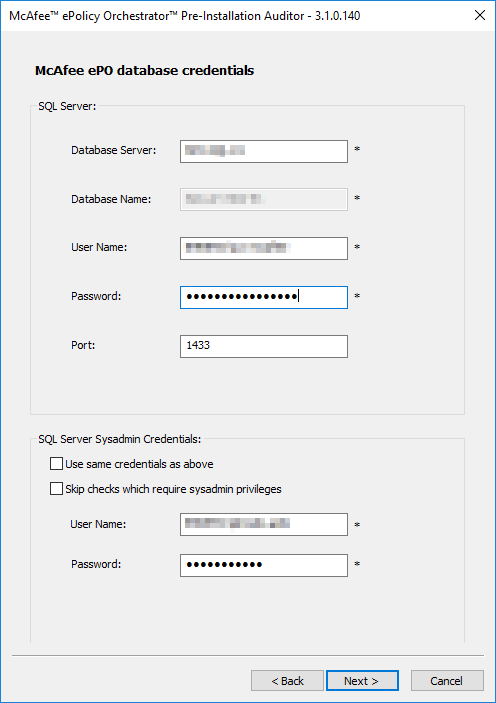 Make sure you have enough credentials for both accounts (in some installations, this can be the same, therefore you can tick the box)
Step 3 : system checks :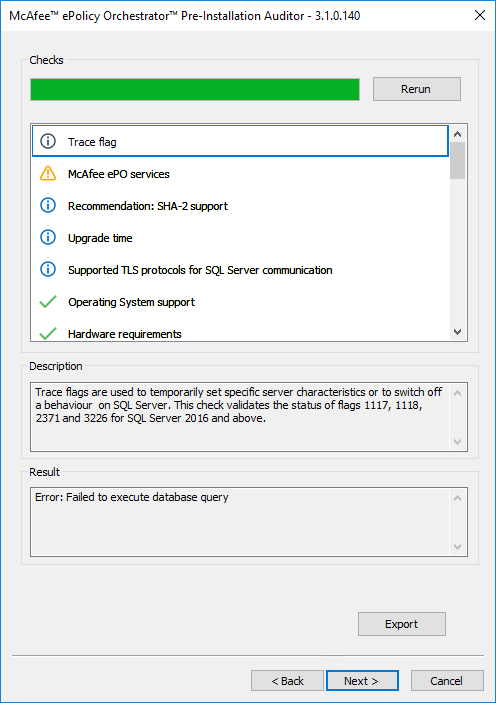 The Auditor will check several things. If your database is missing some flags, you'll have to enable them. There is several ways to do so and as I'm running MS SQL on a core version of Windows, the easiest for me was to add a registry key for the entire server.
You'll find more details about the procedure here.
For me the result was to add the trace flag 1118 :

Step 4 : product compatibility checks :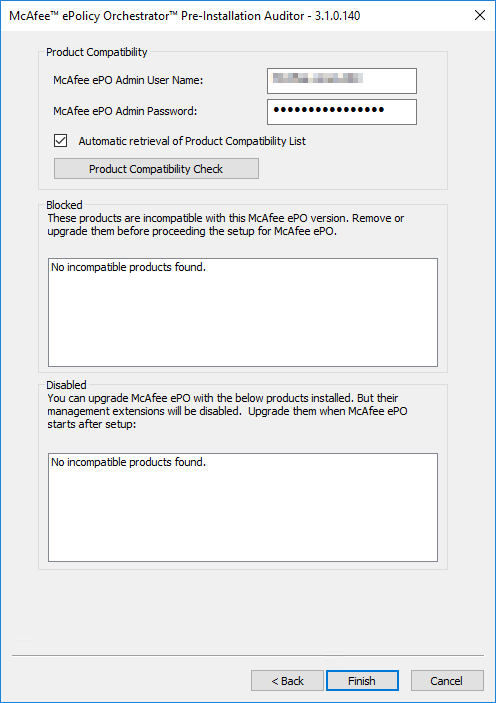 If you are lucky, all the products that are currently in your productive environment are compatible. In my lab, I had to remove Mcafee Security for Exchange 8.6 package and extension because as today (24.09.2018), this product wasn't compatible yet (and it was possible because it wasn't deployed yet).
McAfee is working hard to make all current products updated as fast as possible, but you might have to wait. You can find all compatible versions here.
Step 5 : the installation :
Please stop the Event Parser and the Server services or this will give you a warning during pre-check. Once done, please do a snapshot of your server and do a backup of your McAfee ePolicy server database.

Step by step installation : click Next :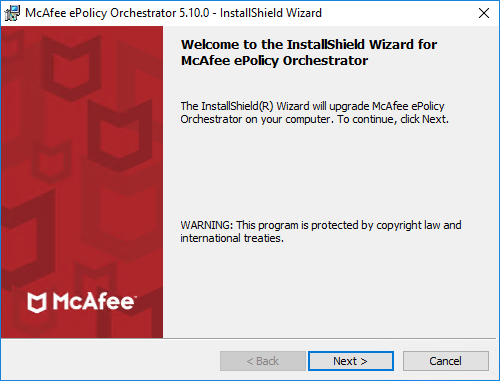 Enter your database credentials :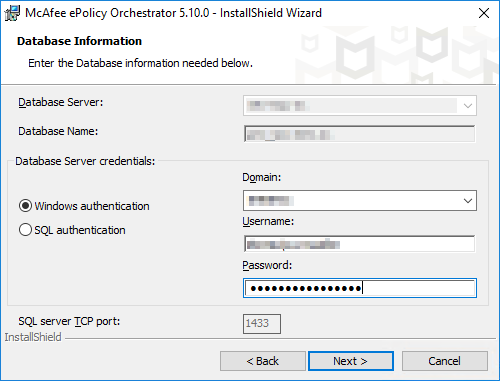 Setup the ports : you'll notice that on this screenshot, I've changed the Agent-Server port and the Console-to-application ports. This is in order to be able to access the console directly on HTTPS port without having to specify an "exotic" port at the end of the URL.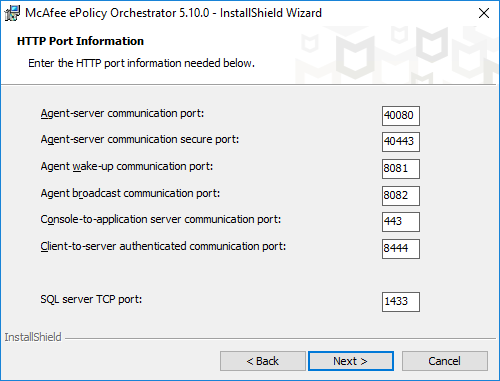 Enter McAfee admin credentials and the passphrase you've chose the first time you've installed ePolicy (and I REALLY hope you have it !) :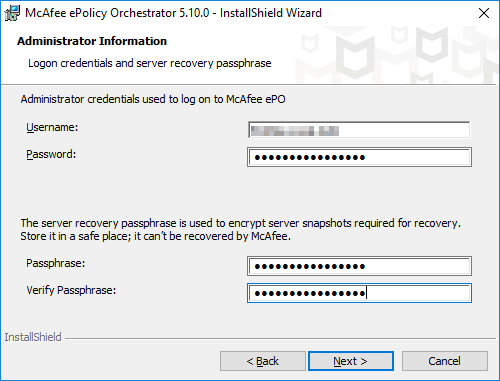 Click next at license key (should be greyed) :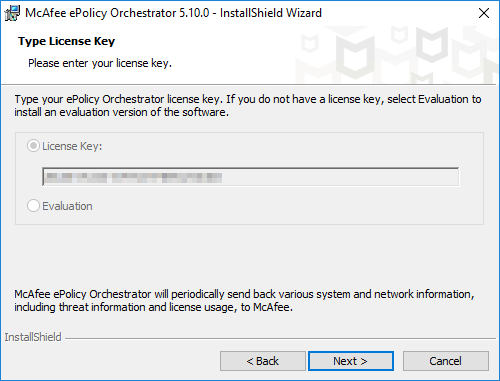 Validate license agreement :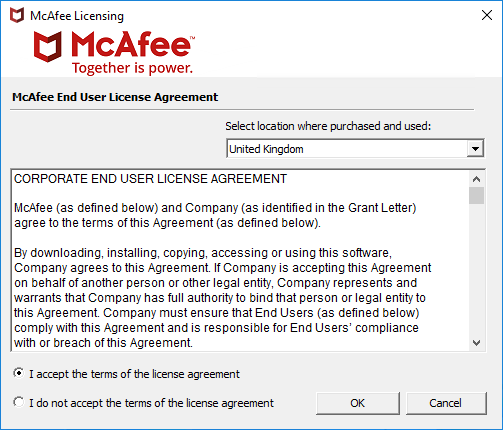 Start the update :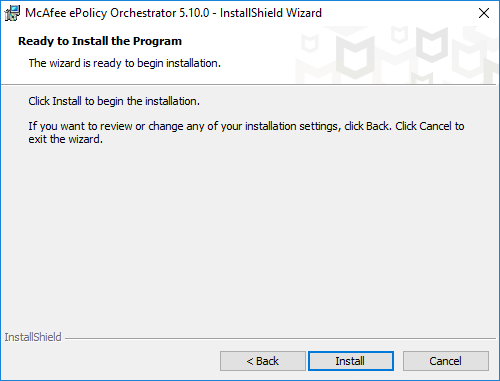 Let the installation finish :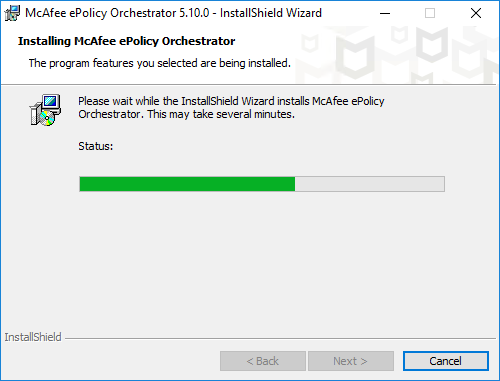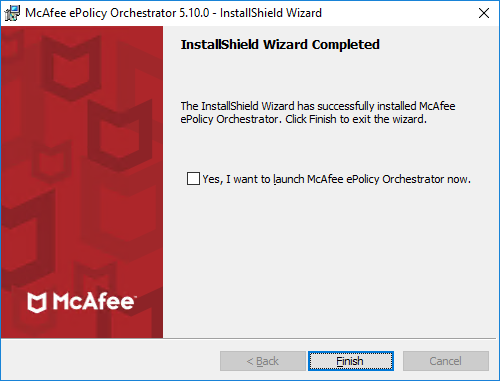 I strongly advice to restart the server in order to check that all services are running as expected.
Also, please connect to the console to verify that any server task run smoothly.
I had to re-enter my Active Directory credentials again, the sync task was failing…
That's it, I hope it helps you and if you have any issue after setup, contact McAfee support.